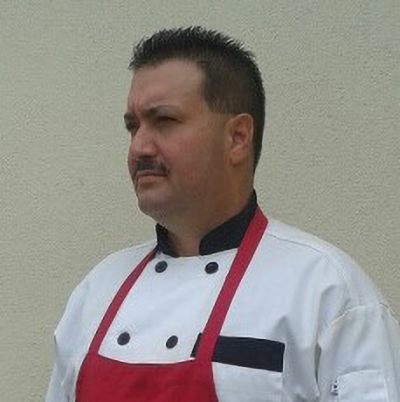 Tampa Bay Area Catering Chef
"If you are planning an event, I have over 30 years of experience in catering. I love what I do… And it shows."
Special thanks to God, who orchestrated my life, my wife & kids, my parents & brother, my whole family and all of my friends. And to all those Chefs out there who cared enough to take me under your wings to teach me a wonderful trade. (Even though I got yelled at, had pots thrown at me, and was even fired once!) Thank You!
Marzella's Catering proudly offers catering services for all the following Tampa Bay areas:
Hudson, Spring Hill, Brooksville, Port Richey, New Port Richey, Palm Harbor, Aripeka, Carrollwood, Odessa, West Chase, Palm Harbor, Clearwater, Dunedin, Trinity, Land O' Lakes, Wesley Chapel and Town N Country.
Make sure to contact us for your next catered event!
Marzella's Catering is Tampa Bay's #1 Choice!
We proudly offer the following services:
Hudson Catering, Spring Hill Catering, Brooksville Catering, Port Richey Catering, New Port Richey Catering, Palm Harbor Catering, Clearwater Catering, Dunedin Catering, Trinity Catering, Land O' Lakes Catering, Wesley Chapel Catering, Pinellas Catering, Hillsborough Catering
Contact Marzella's for your next gathering Today!
About Frank Marzella, The Chef
My mother, Louise Marzella, once told me that when I was 3 years old that I took an interest in cooking. I watched her all the time peeling vegetables slicing, chopping, pouring, sprinkling, & stirring. She said I would imitate her. One day she walked in our very small kitchen in Brooklyn and I was standing on a chair stirring hot water! (Yes, she freaked out.) but I was having fun; not realizing the danger. Of course, she let me know it… Ouch!
A short time later, still at the age of 3, on a Sunday morning (my parents used to like to sleep in on Sundays) I awoke early. I was bugging her to get up and make me a peanut butter sandwich. She kept saying, "Later…later… you will have to wait!" I'm not sure, but I think she even threw a shoe at me. After a while, I gave up asking, went into the kitchen and made it myself. My mother was stunned. She said it was the perfect sandwich! I didn't even rip the bread while spreading the peanut butter.
As I got a little older, I would help out in the kitchen, doing what ever my mother asked. I LOVED this cooking stuff! I started surprising my parents every Sat. & Sun. morning with breakfast. Very soon, I started "experimenting" using my parents as guinea pigs. I loved to eat and started coming up with different things. Not all of them were successful! Thank you Alka-Seltzer! My mother was a big help; she would taste and smell everything and tell me if it needed something or what I was doing wrong. So, I followed her advice.
Around this time, we moved from Brooklyn to Staten Island
I started studying every dish my mother cooked and I would prepare them for myself. Pretty soon I was making dinner here and there, and yes, we are all still alive! On Saturdays, we would visit my maternal grandmother in Brooklyn, Lee Cieivo (Nana), who was from Naples. My Nana would let me stay over at her house all the time and we would stay up and cook all night. On Sundays, we would visit my father's parent's house who also lived in Brooklyn, Francesco (whom I was named after) & Rose Marzella from Bari. I loved walking into their house. The smell of onions, garlic and homemade tomato sauces were incredible! No matter how full I was, I had to taste-test everything. It was always fantastic. All I knew was that I wanted to cook like that. Absolutely delicious! So I started asking lots of questions.
What a life, what a wonderful world of food!
I remember when my parents would take my younger brother Sal and I out to eat. I would always order something new that we never made at home. My father, Nick Marzella, would always say, "You have an incredible knack for picking out the most expensive thing on the menu"…Oops! Having said this, I cannot leave out my mother's older sister, Jackie, my aunt. She took notice of my "foodie" personality, and accompanied by my Nana, would take me out to eat in Manhattan to every kind of nationality they could think of. Spanish, Mexican, French, Russian, Japanese, Korean, Middle Eastern, Indian, Greek, German, and even Ethiopian. This was all embedded in my personality and my thoughts. A future was brewing for me, but I did not know it yet.
I was developing a talent for cooking and learning how to combine that with my other natural talent…Art!
Back when I was 3 years old, my parents noticed very easily that I was very good at drawing; my first "Rembrandt" being a turtle in green crayon… right on my bedroom wall. (Another Oops!) My parents bought me drawing paper after that. I started drawing pictures of anything and everything all the time. When I around 6, my mother's older sister, my aunt Marguerite, was an artist and worked for a company that put her artwork on glasses, calendars, birthday cards, wall paper, you name it. Her apartment was set up like an art studio. She taught me art techniques that helped develop my artistic talents further. All of my grade-school teachers started to take notice. I entered my first art contest in 2nd grade, and I won first place! My favorite things to draw were superheroes; I loved to read comic books back then.
In middle school, one of my teachers took notice of my drawings and began posting my art all over Staten Island and Brooklyn. I was even published in the newspaper. In an art contest in Brooklyn, I came in 2nd place at the age of 12 to a student that was in college!!! This teacher, Mr. Cappiello, suggested to my parents that I should try to get admitted to a special high school in Manhattan called the High School of Art and Design. Out of 500 applicants, I was accepted. The art school was great. I took classes in every kind of art such as sculpting, photography, printing, illustration, painting, and even advertising. During my sophomore year, one of my teachers directed me to advertising as my major.
As time went on, I lost my taste to be an artist
I asked my parents in the beginning of my senior year if I could go back to my "home" high school, Port Richmond High. I'd already figured out what I wanted to do for a living… I wanted to cook. I wanted to be a chef! Most of my after school and summer jobs were cooking jobs, dish-washing, burger flipping, prepping, and eventually line cooking. My father's younger brother, Uncle Joe, opened an Italian restaurant in Hollywood, Florida called Flora's and during one summer vacation, he let me cook in his kitchen. I was in my glory! This is what I wanted to do with my life. I also had always wanted to move to Florida.
I remember my Uncle Joe taking us deep sea fishing on a boat called "The Sea Legs". My brother Sal caught a kingfish that was bigger than he was. I loved fishing, and did I mention, I love to eat! I was ready to eat that fish right then and there. My uncle took us to the restaurant and we cooked that kingfish and devoured it. I loved the restaurant atmosphere.
The two passions of my life were now combined
I wanted to be a chef and wanted to someday own my own Italian restaurant in Florida, just like Uncle Joe. Well, life went on and I took a job in Staten Island with a catering company. The first day, the head chef showed me how to carve a watermelon basket. This was now really getting interesting. I was able to use my art abilities in food. Two years later, I started my own catering business in Staten Island called Classic Creation. I catered everywhere and loved it. It was a part time, side business that kept me busy on the weekends. I still worked in various restaurants during the week, some international, some American, but mostly Italian. But what I really wanted was to be a chef and caterer. To own my own restaurant in Florida and go fishing. I'm now living my dream!
I moved to Florida in November of '92 and I go fishing all the time. I started catering here in the spring of '93. I'm married to the most wonderful woman, Leonor Marzella, from Venezuela. I have a wonderful step-daughter Veronica and a son Juan Carlos, who keeps me busy… and young! It's funny how life repeats itself because now my son is always saying, "What's that smell?" and always wants to help me cook. Hmmm?
If you are planning a Tampa Bay Area Catering event, I have over 30 years of experience in catering. I love what I do… and it shows.
~ God Bless, Francesco "Frank" Marzella